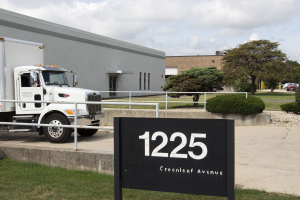 2013 is off to great start with the implementation of a number of continuous process improvements affecting quality, capacity, and cycle times at our coating division facility on 1225 Greenleaf Avenue in Elk Grove Village, Illinois.
Installation of vent-less powder coating booth specifically designed for Bell Helicopter bluecoat and prime aerospace applications. MIL Inc. applies a broad spectrum of epoxy, polyurethane, polyester, nylon and various proprietary powder coating materials meeting most industry and aerospace specifications.
In addition to our enhanced powder coating capabilities, a February installation is planned for our new 3,900 cubic foot F.O.D. controlled down draft spray booth and 80,000 CFM air management system setting new standards for high purity coating applications.
Concurrently, masking capacity and capabilities have been generously increased with the addition of eight (8) custom designed masking work cells. Masking is a production bottleneck with a very human element. These task specific and flexible work cells allow MIL Inc. to reconfigure operations and adapt to rapid changing delivery commitments.
MIL Inc. has integrated various technologies and masking mediums capable of producing CAD generated masking templates with tolerances of +/- 0.002". This new generation of Aerospace production masking yields highly repeatable, reliable, and time saving opportunities.
Our customers are challenging every facet of our business including delivering the highest quality product in the shortest time possible.